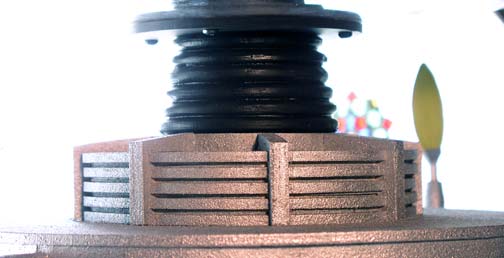 The bubble lifter does nothing else on this model except to support the bubble. It's made from 7 wood rings coated with that Plasti-Dip rubber stuff. At least it looks and feels like rubber.
The rest is quarter inch wood rings separated by two thicknesses of mat board in between.
UPDATE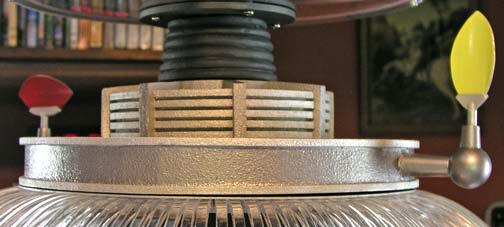 I found a small lazy susan at a hardware store for $3.00. I shimmed it a bit, glued it down, and it now rotates.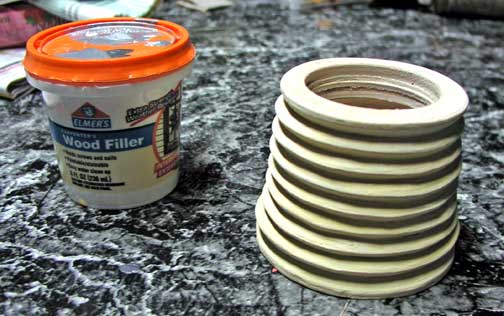 After two people told me my neck piece "looked funny" I figured it was time to do something. I made a better neck "boot", fabricated from wood which stands a bit taller and is more like the collapsible rubber shape. I painted it with a diluted coating of the 14th wonder of the world, Elmer's Wood Filler®. After that was dry it got a coat of dark charcoal gray latex paint like the arms and legs.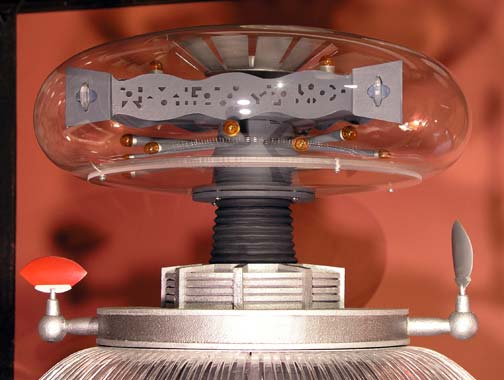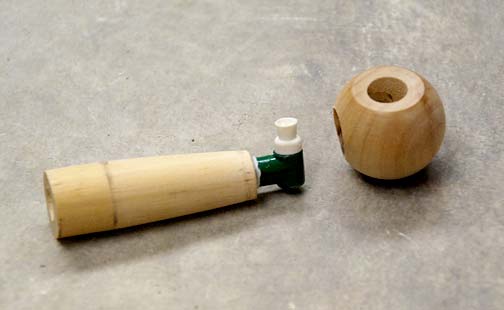 I decided to redo the radar unit. I truly hated those small geared motors that sounded like a B-52 bomber taking off. I finally utilized the two timer motors I got 2 years ago from All Electronics that rotate at 30 RPM. They make very little noise, a really low hum that you can hardly hear. I cut an old computer keyboard cable into two sections and pulled the wire out. What was left was a rigid but flexible piece of tubing which works as a drive shaft from the motor to the dental prophy angle inside the ear post. The motors are $2.50 each from All Electronics (www.allelectronics.com/cgi-bin/category/400500/AC_Gear_Motors.html)
The only disadvantage to some might be that these motors have a mind of their own and will change directions each time they're turned on. One may not change direction, so you'll have two ears spinning in opposite directions which fortunately isn't a problem for me. I must give club member Tim B. credit for this idea. I also rebuilt the lower part of the radar unit more accurately.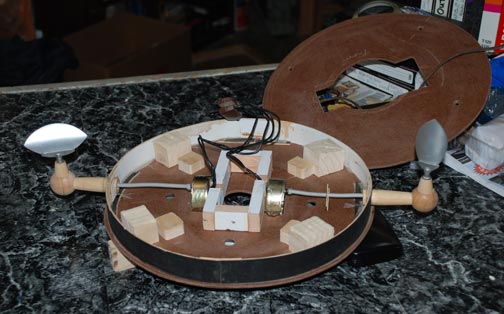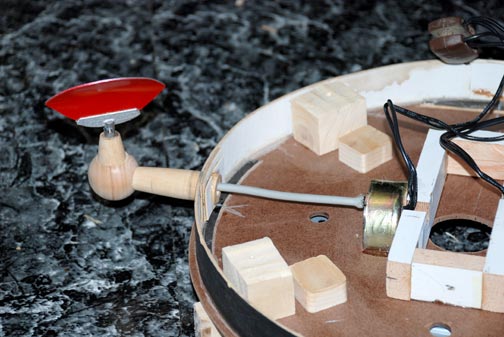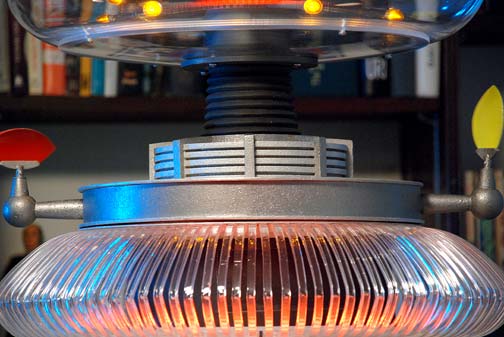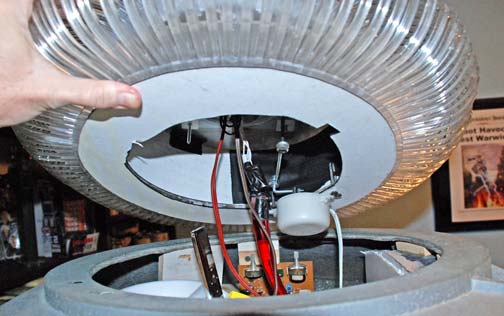 I saw a lighted animated lawn reindeer at a bargain store and a thought hit me. I could use the motor to make B9's head swivel slowly from side to side. No $400.00 stepper motor and circuitry, just a simple hook-up that took less than an hour. It hardly makes a sound and gave the robot some life for less than 20 bucks. It's attached underneath the collar and the "arm" from the motor swivels on a 4 inch long drywall screw hanging down from the radar unit, causing it to go from side to side. Sadly the Wonder Deer™ is no longer animated, but someone would probably have stolen it anyway like my "duck crossing" sign a few years ago.