DIAGNOSIS: Shatneritis Egotosis
SYMPTOMS: Seems to disrupt normal brain function and causes victim to believe he or she is infinitely superior to anyone else.
CURE: No known cure. A strong blow to the victim's head is beneficial - to those in the patient's presence - but the results are temporary and do nothing to cure the victim of any part of the disease.
NOTE: Stay as far away from the patient as possible until a cure can be found.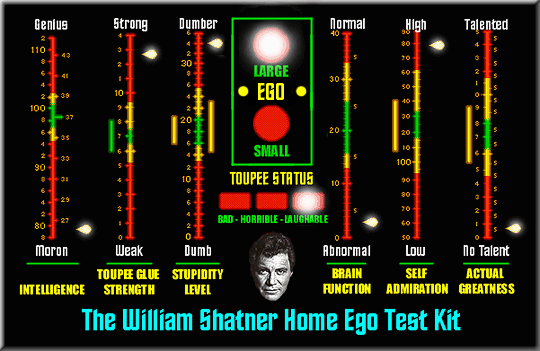 - Introducing -
The William Shatner Ego Self Analysis Home Kit
(and toupee believability meter*)
Yes, now for the first time, you can give yourself an ego check right in your own home!
All you need is a home computer (Mac or PC) and 6 free megabytes of of RAM. Check out your own self confidence, and compare it to the #1 egomaniac in the known universe, Bill Shatner. Just attach the two small probes (provided) to the base of your skull, plug them into your modem port, and activate the program. You'll know within minutes if you even come close to the famous legend in his own mind!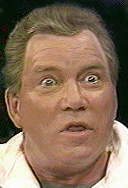 Only $59.95 + tax and shipping
See your local software dealer or write to
Ego Products Box 5422 E. Malmo Wisconsin 54021 (positively NO refunds)
Allow 4 - 6 weeks for delivery
* The toupee meter requires an optional video camera only available from us for $1400.95
BACK to the Shatner Page