Lew Aid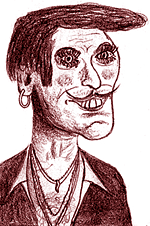 Hi folks, I'm a friend of Lew's (yes he does have several) by the name of, well, let's just call me Lance. My picture (artist's rendering actually) is to the left. I've known Lew for many years and can say that if you look up "Hell of a guy" in any reference book, you'll probably see some mention of him. I'm putting up this web site for him and organizing the first annual event scheduled for September of 2000 called "Lew Aid". In a nutshell, Lew needs money and he needs it now. Lew Aid will be held in Providence RI next September at the New Commodore Hotel overlooking the beautiful Providence River. (date and times to be announced) Admission will be free, but a "donation" of no less than $50.00 will be a more than acceptable amount to actually pass through the door and in to the main activity area. What's there to do you ask? Well, there will be food galore, there will be dealer's tables everywhere, and there will be non-stop videos of Lew's great performances throughout his illustrious career in film and television. This will be a big event, one that everyone will be talking about for weeks afterward.
I know your next question, why? Well, why not. This guy needs the dough. He REALLY needs the dough. Here's a small sampling of things that have happened to him over the years, and perhaps you'll understand and come to the damn convention and fork over some do-re-me:
In 1990 he invested $40,000 into the "Let's Bring Back 'Let's Make A Deal'"campaign, hoping to revive that famous game show of the 60's. It fell flat. Then on a return flight from LA in 1991 the starboard engine on his plane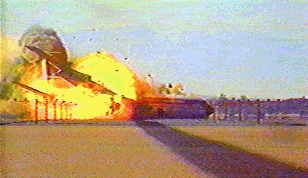 caught fire just before landing, and Lew was in the hospital for several days suffering from "extreme nervousness", as the doctors put it. It took him months before he could board a plane again. In late 1991 he tried to become a vocalist, with his goal (for some reason) to sing the national anthem in every sports arena in the nation. He only ever made it to McCoy Stadium in Pawtucket RI, and after being booed off the field before the song was even finished (and narrowly avoiding gunfire from two individuals) he decided to pursue other avenues.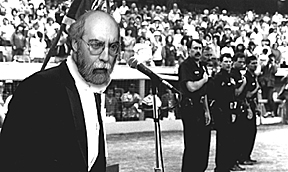 In 1992 he tried race car driving, and the results were very similar to what you see on the right, only with a four wheeled vehicle traveling about 125 miles per hour.
After three months in the hospital he did what had to be the strangest thing yet. He tried to start a new nationwide craze known as Squirrel Jet Ski Racing. Many people thought he had gone off the deep end with this idea. Lew planned on having this as an addition to casinos and bar rooms, throughout the country where people could bet big money on the outcome of the races.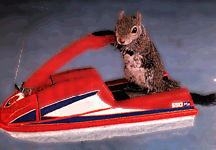 Lew said that he would provide the squirrels, which he planned on personally training himself. Apparently he had a house full of them, and thought this would be a prosperous idea. More like preposterous. It of course never got off the ground.
His last few years have been spent in a place where people with his condition must be kept. The money he made over the years as a "performer" has just about run out. Mr. Pisatori is about ready to throw him out of the home if he doesn't come up with the funds to keep him there, and let me say that, you, Lew, me and the rest of the world are better off if he stays there.
So come forward with some cash, and you can live a happy life filled with joy and religious fulfillment.
The address where you can send your cash will be announced shortly.
"Lance" - November 1999
Go to Lew's Home Page